PhotoWrite® Mobile Web Application for Smart Phones and Tablets
PhotoWrite® MTS (Mobile Technology Solution) is a device responsive web application that is focused on an MOI-appropriate portion of repairable auto claims.
Our solution enables an adjuster/dispatcher to assign a loss through the Comsearch Claim Portal which will push a link notification via email and/or text message to the vehicle owner prompting the vehicle owner to photograph the vehicle damage.
PhotoWrite® MTS is ideal for low severity claims.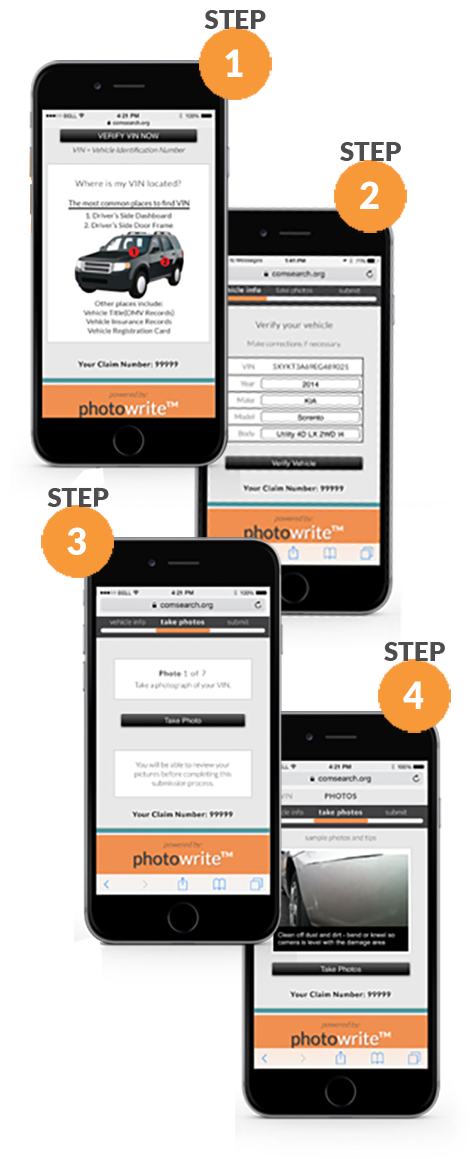 Applying PhotoWrite: Top Available Features
This is a Secure Web application – no customer downloading Apps required.
Web App can be customized to your needs including; the number of photos requested, your script, your branding, and more.
The vehicle owner simply clicks the link which provides visual step-by-step instructions on how to take photos of the damage and submit to the company.
The process includes optional comments, extra photos and a customer satisfaction survey.
Your staff (or our licensed Comsearch staff) writes the repair estimate.
Manage your program with our claim center web application. Traffic, pending, follow-up, reminders (or utilize our service driven customer service team to manage the program for you).
Put the power and flexibility in the hands of your insured.
Quick, simple, no-hassle process that creates high customer satisfaction.
Lower costs while improving cycle times.
For more information
click here
or call 800-966-7334 ext. 3327